Friends of CE: Debbie
We adored speaking with Debbie Tan from the sunny island of Singapore. She shares with us how her husband and cat bring her happiness, as well as some much needed, grounding words on what she's learnt from the circuit breaker period experienced in Singapore.

Instagram: @thedebslesstravelled

---
"What's my happy place? Being with my cat, Nappy (Instagram handle @nappyhan) He brings me lots of joy. I cherish each moment I can spend with him, even just chilling at home. He is a loving and fiercely independent cat but he has his loving moments. He has taught me to relax especially as our line of work can sometimes be challenging. Times when I can Netflix or read are moments of joy for me too!"


I'm Debbie, from Singapore, a very sunny island! I spent lockdown at home. I learnt to be resourceful, be flexible in handling IT tools for teaching and meetings and to still carry out what I like, whilst being in the home environment. It may be a good thing I am introverted so spending time alone or at home is really ok. I did miss going for brunches with family and meals with friends but that was compensated by cooking!

This pandemic has taught me to be flexible, to be thankful, for systems (whether government or not) that have clear instructions, to be socially responsible and take one's and others' health seriously, to take social distancing and precautions seriously (sometimes over personal freedom), and to know what are the bigger things that are more important to people. I feel if you love yourself and care about others you will be able to see the need to follow some important national instructions. This pandemic allowed me to observe different countries ways of handling the pandemic. No one is perfect or the best and everyone has suffered in some way. I think for Singapore having survived during SARS (Severe acute respiratory syndrome) years back allowed us to also be a bit more prepared and resilient this time round. There are many lessons we have learnt in policy making and it is always a learning journey. That is what makes living and surviving an experience.


Currently my happy place is at home. In times when we could travel (cannot believe I am saying this!) I loved to visit Japan and London very much, both close to my hearts as places of study and rich culture.
I have many favourite trips from the past. My first trip with my last boyfriend (now husband ☺!) to Thailand, we had to wade into the water to get to our hotel! My trip to Scotland driving to Glencoe, a trip to Finland to see the Aurora in minus 30 degrees and getting stuck in the snow on the frozen lake! Also, my trip to Japan alone in 2015 seeing the sakuras was awesome.

My dream is to go into research but I am still not sure yet. In the meantime, it is always about making the home better for my cat to feel good in.

Seeing my husband, my cat, my family and friends healthy and happy fulfils me. And my students to be happy learning during lessons!

My husband is my inspiration. He is everything I am lacking in, and has endurance and resilience. He has taught me a lot in life and is a dependable friend.

I last felt brave when I went for an operation two years ago. I did not know how it would go but, it changed me and since then I have been more daring and taking it easier too.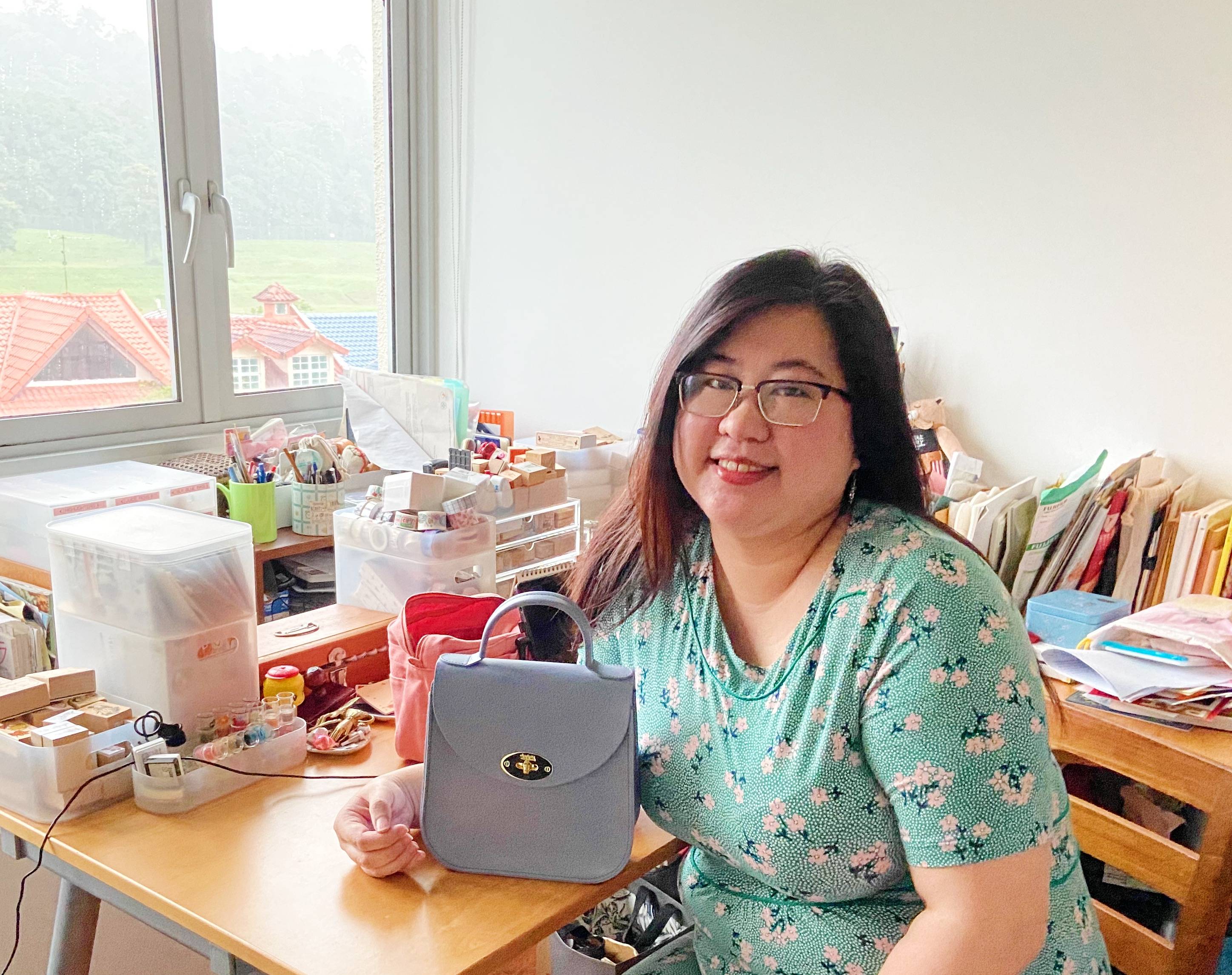 ---
---
I first saw Charlotte Elizabeth in the papers and did some research on the brand. It took me quite some time to decide to get it, but once I did, I was hooked!

The quality of the leather is very good and durable. The stitching is also lovely. The Bloomsbury is a classic and the colours are all beautiful.

Currently I have (in order of when I got it) The Chestnut Bloomsbury, The Pink Bloomsbury Backpack and The Blue Bloomsbury.

I got the Chestnut as a milestone gift. In Singapore, we were having the circuit breaker due to the Covid-19 pandemic and it was a tough time for us.

Many of us had to respond readily to changes in our workplace. As a teacher I prepare lesson for Year 4 (16 year olds) to Year 6 (those sitting their GCSE A levels this year) and in a short space of time we had to discuss in our departments, re-plan some of our lessons without compromising students' learning.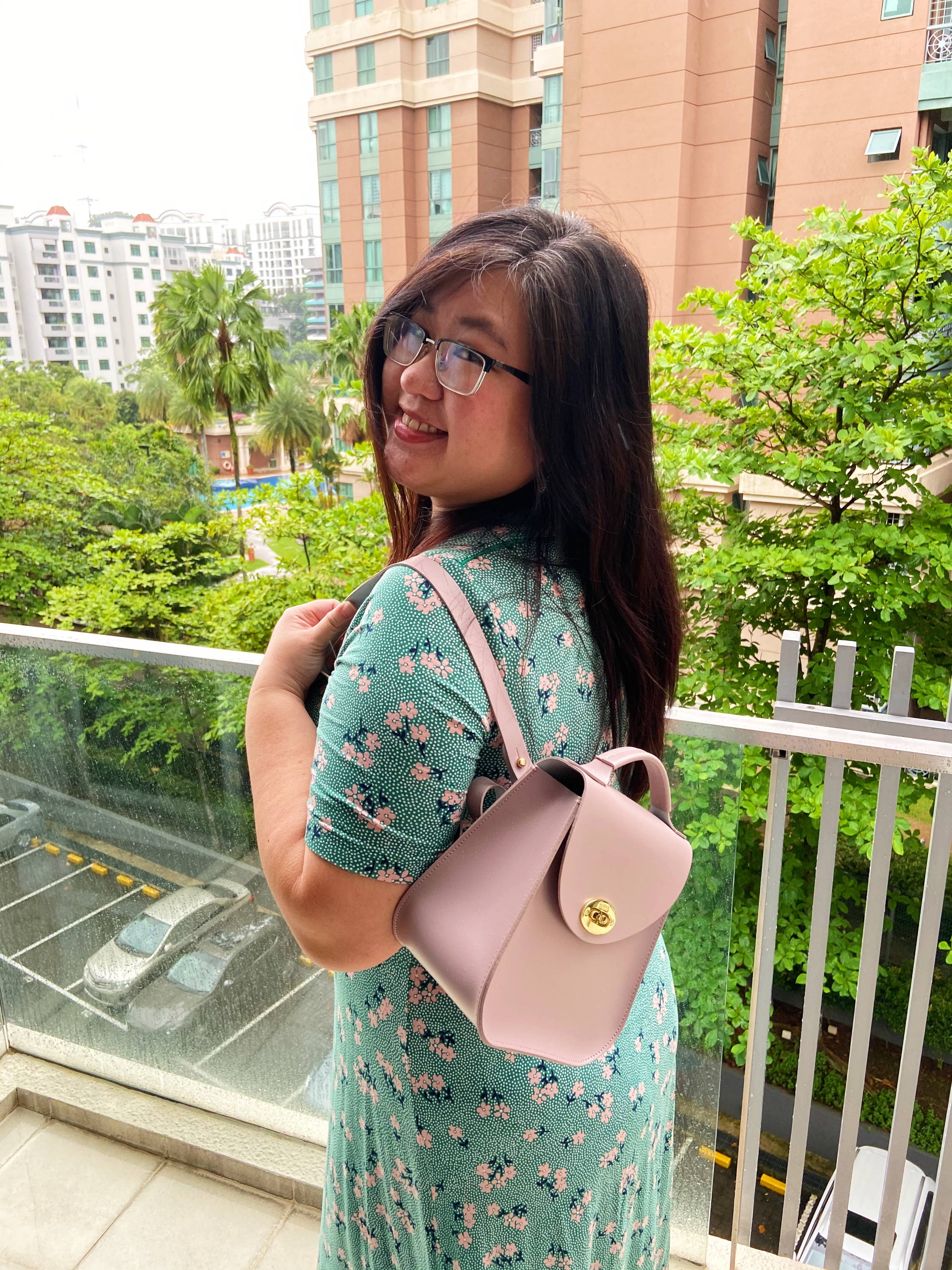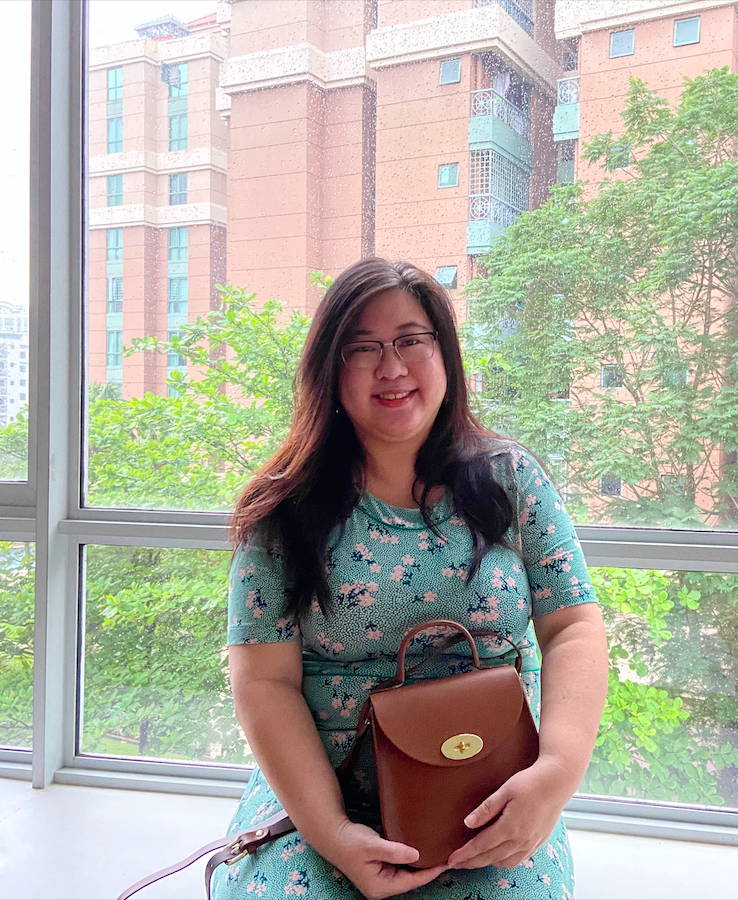 Looking back, the whole circuit breaker period that we were at home due to restricted travel was challenging and I was amazed I survived it. The bag marked an appreciation of who I am and what I can do. During this period of getting my first bag, I also spoke online with Charlotte and now I associate this bag with the challenges I faced during this Covid-19 circuit breaker memories and my friendship with Charlotte!

As for the rest of the bags, they were pretty much a present to myself! I normally bring around bigger bags but due to the circuit breaker, I had to bring smaller bags for walking or as a purse during supermarket shopping for essentials. I have since liked carrying smaller bags, thanks to CE. The pink was a challenge as I seldom wear smaller backpacks and now this is a staple. The blue Bloomsbury was an added complement to the chestnut this summer. I hope to get other coloured Bloomsbury bags or the Alicia someday!


I have not removed the straps (yet!) as I am afraid of bending the leather, but so far it has been cross body for both Bloomsbury bags and Backpack when I am able to visit my families now. For future outings that are more formal I may consider removing the straps.

In my Bloomsbury's I keep my wallet, keys, hand phone, lipstick, car key, sweets and travel card. The pink backpack has a larger base and the bag is able to take more items.

My favourite adventure so far with the bags are bringing them around during phase 2 of Circuit Breaker and for a walk to a park recently. They're so convenient and light!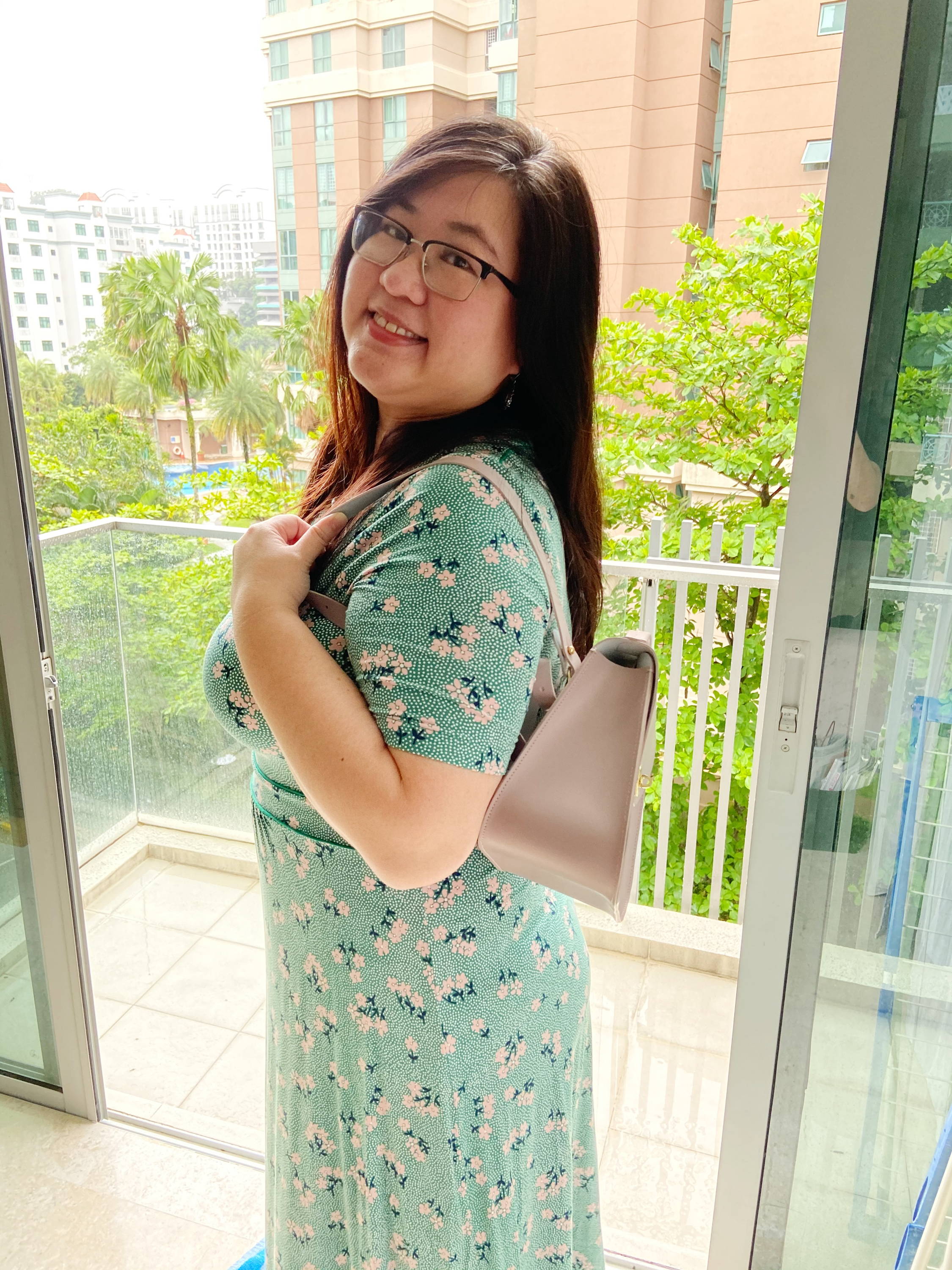 I would love to see more understanding and more allowances to joke and have fun in this world. Everyone should take things easier and not be too stressed or to smile more. I think a sense of humour is something much cherished now. I like to make my classes enjoyable so there is some laughter.

I believe social media is able to allow one to express oneself. Whether good or bad, the creator of the post has to know the consequences and be responsible for what is posted. There are stories of social media being hurtful and yet there are also uplifting stories of social media being powerful for protests and allowing one to find a voice or friends in a community. It swings both ways!

One disadvantage I can think of is social media driving up demand or hype that might work in a better economy but may not in a critical situation.

During lockdown, flour, sugar and milk were out of stock as on social media, many were posting baking cakes/dalgona coffee. It is not a bad thing but those items are also essentials for families so I am also not sure if social media drives up the demand for some items that are crucial for day to day consumption vs something to be shared on social media.

I think we need to all show more compassion and generous hearts, politeness. I think these are losing values nowadays.

One thing I wish that I knew when I was young is that it is never too late to learn a new skill! I learnt driving when I was much older and still passed.

Let's finish with my favourite mantra: Work hard, play harder!



---
---