My Morning Meditation Practice | Grounding and Connecting
by Charlotte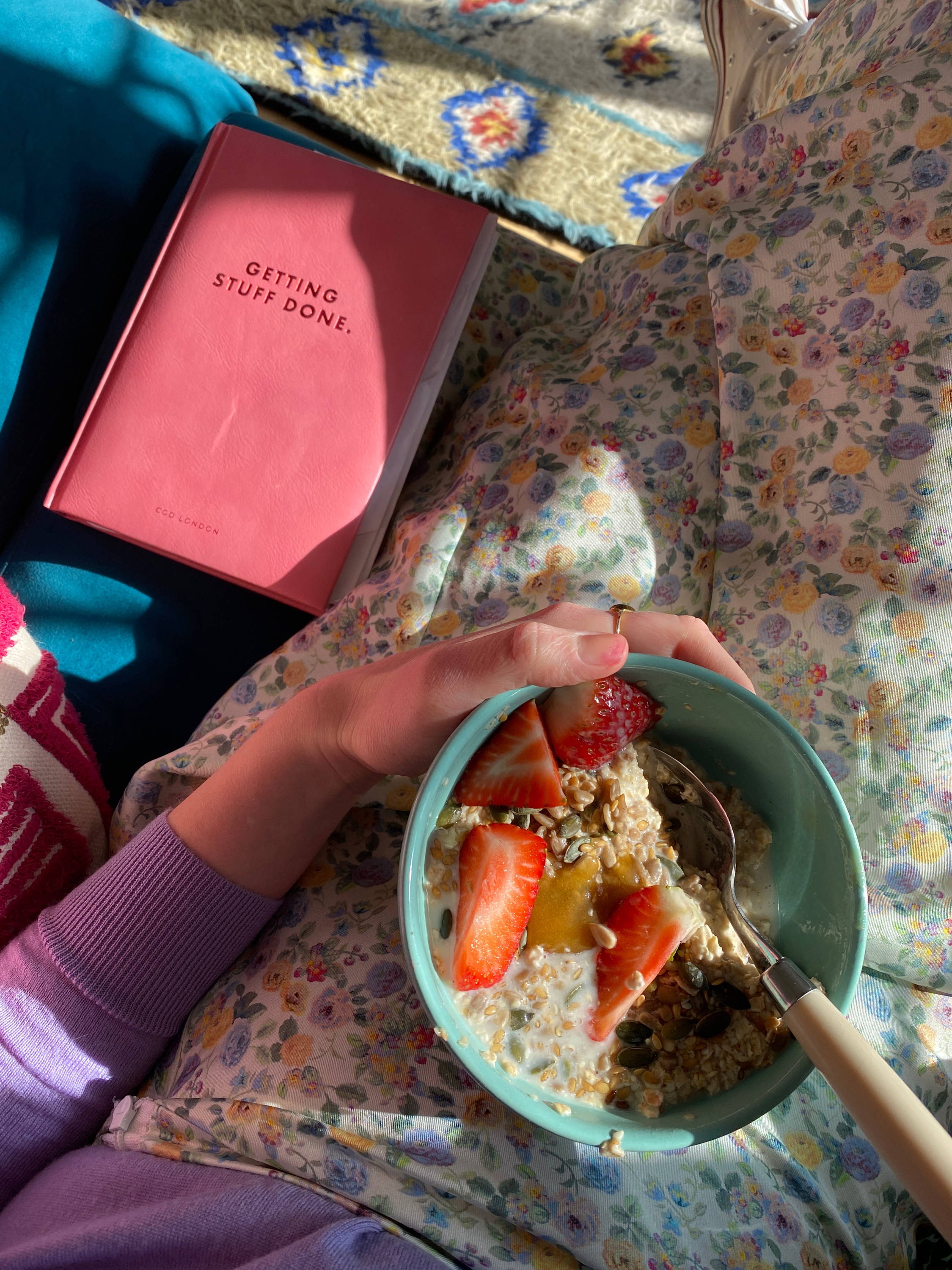 "Each and every morning I start my day with this morning meditation practice. It is so very grounding and I feel more connected to myself and that of which is around me. It is a lovely practice to incorporate into your everyday routine."

- Charlotte


My Morning Meditation Practice

This meditation is performed over breakfast, so make sure to have yours ready prior to starting. It is best to do seated, with your feet on the floor.
Begin by placing both feet on the floor, with your food placed on your lap or on the table in front of you. Place your hands on your lap, straightening your back. Feel your feet positioned on the ground, the surface below them, it's texture and if it is warm, cold, or room temperature. Really let yourself connect with how it feels to have your feet on the floor.
Close your eyes, before taking in 5 juicy deep inhales and exhales. As you are inhaling, imagine you are blowing up a balloon into your lungs, once they're at full capacity, exhale, drawing your stomach into your spine, opening your mouth as you do so and letting the air blow out. Make sure to count your inhale and exhale as 1 breath.
I like to do this breath work with a visualisation of inhaling sunlight, exhaling smoke.
Once you've done the breath work, open your eyes and gaze down at your breakfast. Ask yourself a few questions, where does my food come from? What is it's source?
I really like to do this practice as it really helps you to begin to see a bigger picture to how your food ends up on your plate. This in itself is really wonderful at aligning to more gratitude for what we so often take for granted.
For instance, if I have porridge with almond butter and berries, I will imagine where each ingredient has come from - the oats, I imagine the oats gliding back and forth in the field, being harvested by a hand. For the berries I imagine lined up in their rows, juicy enough to pick. For the almond butter, I visualise a harvester collecting the nuts from the tree, before crushing them to make almond butter.
Close your eyes. Repeat the breath work.
With each round of 5 breaths, count 5 things of which you are grateful for in that moment. It can be as small as having socks on your feet, to having a glass of water in front of you, for your family and friends.
Once complete, I like to raise my hands in a prayer position to my third eye chakra (between the brows), with my thumb touching this point. I chant 'let me see the truth', then moving my hands to my mouth, 'let me speak the truth', to my heart chakra 'let me know the truth', before raising my hands to my lips, 'namaste'.
It is a little whacky but I really do believe in the power of this one, which is why I have done it for mostly every day for years now!
Enjoy,
Charlotte. X